Last week, soccer fans in the Atlanta metro area received the long-awaited announcement from Major League Soccer that their city had finally been awarded an expansion team. Arthur Blank, the owner of the new Atlanta soccer franchise, will have some interesting decisions to make in the coming months and years that will mold the brand, and ultimately the success, of the team.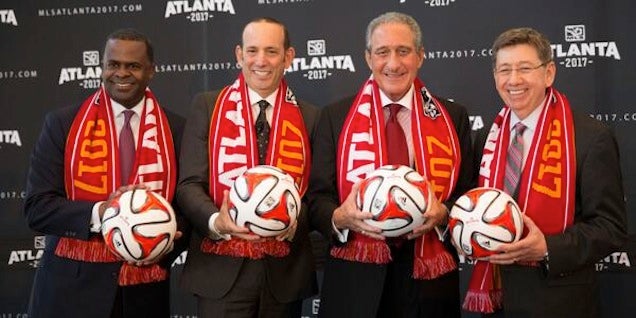 Brand management is one of Blank's strong suits, as he has shown throughout his tenure as owner of both Home Depot and the Atlanta Falcons. Blank bought the Falcons in 2002 and transformed them into one of the NFL's more successful franchises, despite naysayers claiming Atlantans were not capable of such support. However, those naysayers point to low attendance numbers from Atlanta sports franchises such as the Hawks (basketball), Braves (baseball), and the now-defunct Thrashers (hockey) — none of which Blank had or has any involvement. After buying the Falcons, Blank showed his commitment to rebranding the team by implementing new uniform designs, investing millions of dollars in renovations to the team's stadium, and many other internal changes. It was an unqualified branding success.
So the question that looms now is how this team will look and feel when it takes the field for the first time in the Spring of 2017. As I write this, almost everything is up in the air. The only thing anyone knows for sure about the franchise is that they'll play in Blank's new stadium, and their color scheme will combine red, yellow and black.
Given what we know about Blank and how much work is yet to be done, this franchise will be an excellent case study to follow. Who exactly does Blank see as his fan base and how will he market this team to those people? How will he reach out to non-soccer fans in the area? How will the atmosphere of the games be in such a cavernous complex? Heck, what will he name the team? We can use this case as a guide as to how one of our modern titans of industry can leverage his product through the use of strategic marketing and brand management. I, for one, wouldn't bet against him.
What do you think? Share your insights and ideas with Joe: [email protected]